Elvis Night!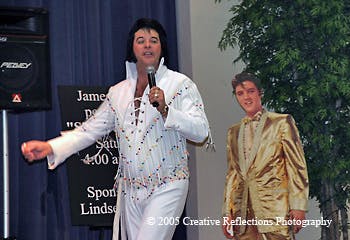 Elvis sings at The Diner!
It was a FULL house at The Diner on Saturday night, March 25th. Elvis Impersonator, James Wages, did his "Elvis" best for 2 great hours of fun! The place was packed and the servers were flying serving all The Diner's best home-cooked meals while James sang throughout the restaurant. People just couldn't stay in their seats! They were up dancing in the aisles.
Even the kids were doing the twist! Great food, great fun, hope they do it again!